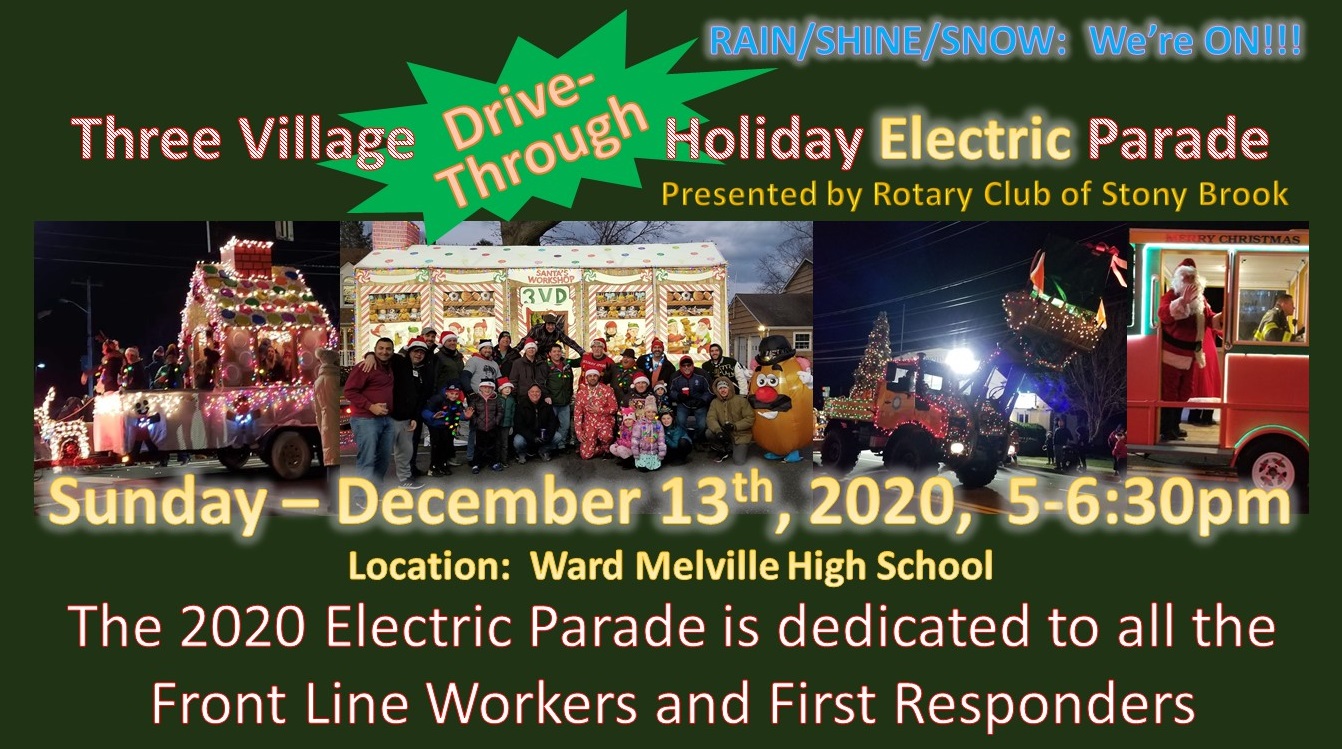 Float/Display Participant Information
Please Register as early as possible so we can plan appropriately

We encourage all groups of any type to participate in this year's spin on the traditional parade.  Here are a few things you should keep in mind regarding this year's parade format:
We are following New York State guidelines and protocol which limit us to a maximum of 150 people gathering outside on the school premises.  We will be VERY WELL spaced out, but we must still officially comply with all recommended safety measures.
The parade will be held on Sunday December 13th, at 5:00pm, at Ward Melville High School (380 Old Town Road, Setauket, NY 11733)
We HIGHLY recommend approaching the school from the NORTH side of Old Town Road.
There is NO COST to participate in the parade!  It's a great way to promote your company or organization within the community while spreading holiday cheer!
You must designate a driver for your group's float/display, and the driver must stay with the float at all times.
You should bring your float/display to the High School between 3pm and 4pm on December 13th.
*** NO FLOATS will be permitted to enter the parade after the drive-through audience starts moving through the displays ***
We will have bathrooms available via an outside entrance to the school.
We have a hard limit of 150 people "gathering" at the parade site, so each group is limited to 2 people "outside your vehicle" at any time.  The driver may be one of these people.
The gates will open for drive through traffic at 5:00pm.
This is an "Electric Parade" so try to light up your display with lights.
ELECTRICITY:  You can bring your own generator as a power source, use battery operated lights, or a power invertor connected to your car/truck.  Also feel free to coordinate sharing a generator with another group adjacent.
Unfortunately, no groups "marching" will be allowed because of our hard limit on participants, instead please make a display/banner and light it up! Then join your family for the drive-through parade!
We anticipate having a "Light Section" for those who have banners, but no lights, and a "Dark Section" so the lights on your display will stand out better.  . . . but we encourage everyone to use lights because after all, it is a LIGHT PARADE!
We will stop the drive through traffic about 6:30pm.  Your driver should be with your vehicle and ready to leave after the last audience vehicles pull through at that time.
There will be NO hand-outs of any kind at the parade.  We must maintain social distance from each other and the audience.
Please do not accept anything being handed out from the drive-through audience.
We will have holiday music playing and special parade announcements on 88.3 FM at the parade location.  You may choose to listen or turn it up as part of your display.
When lining up to bring your float/display to the parade, please stay to the side of any active roadways and don't block side streets and driveways.
IMPORTANT:  Please follow all social-distancing guidelines while your group is creating and decorating your floats/displays.
IF YOU NEED HELP or IDEAS, LET US KNOW!  We have lots of great ideas & resources to help you make the perfect design to represent your company, group or organization!  email us at info@3vholidayparade.com
CHECK BACK REGULARLY as these guidelines may change periodically based on updated New York State regulations.