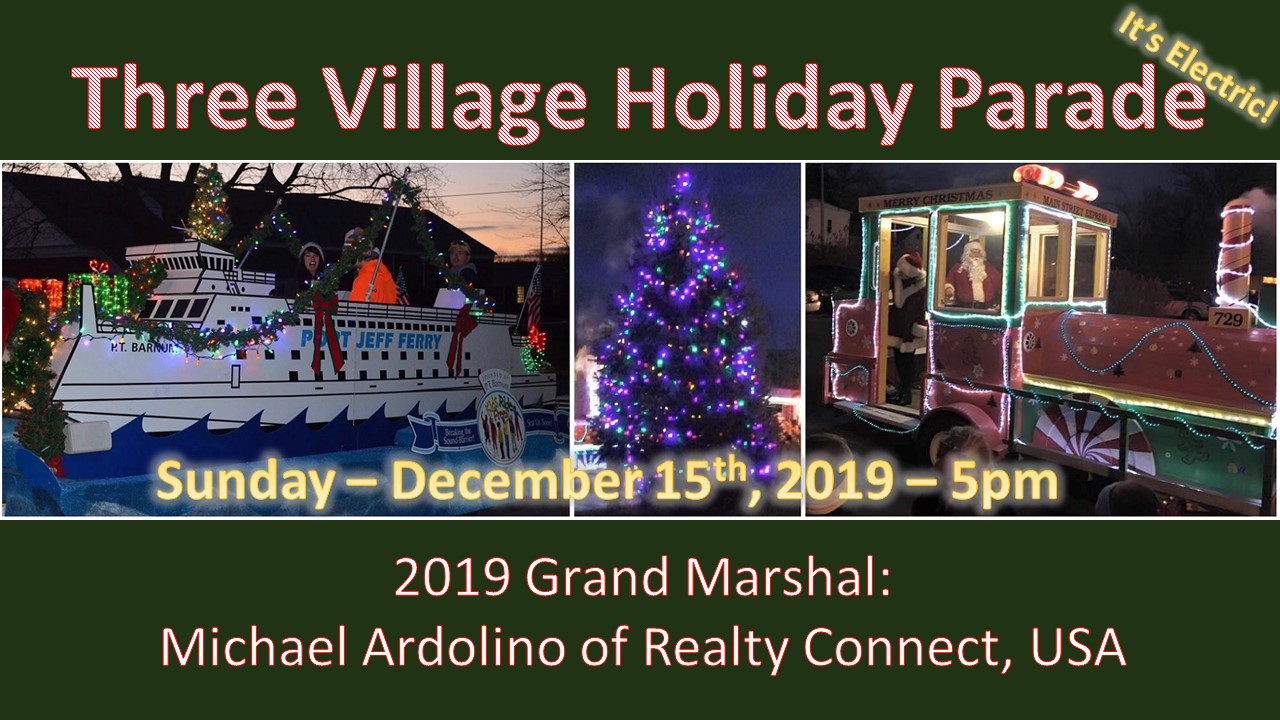 We'd like to express our deep appreciation to all of our sponsors and participants for making this year's parade a huge success!  Check the TBR Newspaper on 12/19/19 for special recognition of our sponsors!  See you all next year!

Bring your community spirit and holiday cheer and join us once again for the Three Village Electric Holiday Parade! The parade is a highly anticipated annual event that has always attracted many participants and spectators. In an effort to make this the biggest and best parade ever, we need your participation.
We encourage participation from ALL grade levels, organizations and ages! Build a float with your kindergarten class, or any class you are in, get together with a group of friends and build your own one of a kind float or just decorate your family car. Start that holiday music, make some hot chocolate and let's get festive! Local businesses are always welcome to join in on the fun. Creativity is not only welcome, but encouraged as well. If you're looking for some great ideas, please click on our Photo Gallery for inspiration!
If decorating a float or family vehicle seems too daunting, you are more than welcome to march with a group or dance your way down Main Street as well. When we are all done, please join us for the festivities after the Parade at the Park! There will be a tree lighting, refreshments, music and a chance to meet Santa so bring your cameras! To find out more information, or to register your group, please visit our Registration page to fill out the form and someone will get back to you shortly. You can also contact Denise Williams at 631-828-9031 or email info@3vholidayparade.com with questions. We look forward to seeing you all there!
ROUTE:  Starts at Emma Clark Library, proceeds down Main Street to the Brookhaven Kiwanis Park
Please consider becoming a sponsor of the parade.  Contributions of $250 or more will be listed on our parade signs and in the newspaper advertisements.  Please inquire about in-kind contributions at info@3vholidayparade.com.
NOTE: Unfortunately, the PayPal option is not working. We can either pickup checks locally or you can mail them to:
3 Village Kiwanis
c/o Billy Williams – State Farm
218 Main Street
East Setauket, NY 11733
Click here to add your own text